CompuMed was originally designed for the frail at-home elderly who would forget their medication.   It works well – perhaps even better – for those who "remember too well."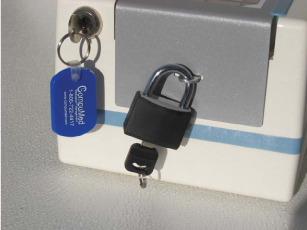 After getting a few CompuMed Medication dispensers back that had been broken into, we added security features that would help prevent those types of abuse from occurring.  We call it the "Enhanced Security CompuMed."  Using the same basic CompuMed dispenser, we add a locker hasp to the back of the unit.  A metal plate then slides over the medication cassette and can be locked with a supplied padlock, or upgraded to whatever level of lock is needed for security.
Even with enhanced security, some dispensers occasionally come back to the factory drilled into or smashed with a hammer.  To help in these extreme instances we modify a hotel grade safe and put CompuMed inside it.  Basically, it is a locked box inside a locked box, providing ultimate medication security!