Several features make CompuMed simple.
First, the MEDICATION CASSETTE.
The grid format is familiar and intuitive – much like the flip-top pill minders many people use. No confusing templates or stacking cups. The cassette is approximately 9 x 4 1/2 inches in size – about the size of an old video cassette. Each individual cell of the cassette is one inch cube and holds a unit dose of medication.
The cassette is optically clear. You can see what has been dispensed and what remains. Gone are the days when someone seeking medication can say, "Oh, but I didn't get my medicine!" Just look in the locked cassette.
The cassette can be loaded remotely or on-site. The medication cassette can be loaded at the pharmacy, caregiver's home or business or at the patient's home. Often, several cassettes are loaded at a time. When one is finished after the weekly cycle, a new, loaded cassette is inserted.
Second, the KEYPAD. CompuMed has a good old fashioned keypad with buttons for each function. This simplifies programming. It may appear confusing at first, but when combined with clear instructional messages on the LCD, it is quite straightforward.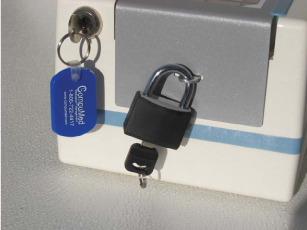 When the cassette is locked into CompuMed, the keypad is electronically disabled. This prevents those without the key from tampering with or adjusting CompuMed.
Finally, the ability to UPGRADE to the level of security you need.